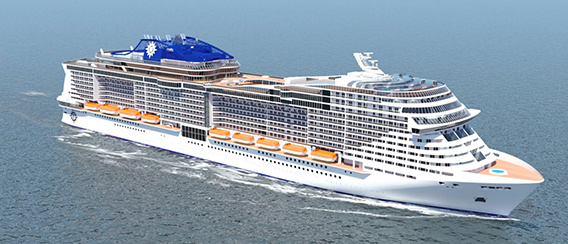 Published on 13/04/2016
In the spring of 2017, the Meraviglia ("Marvel" in french) will become the largest vessel ever built in the fllet of cruise operator MSC Cruises . The craft measures 315 meters long (1033 ft), 43 mwide (141 ft), 65m high (213 ft) and can accomodate no less than 5700 passengers. The ship is currently under construction at the STX shipyards in Saint-Nazaire and a second cruise ship is planned for delivery in 2019.
The equipment installed aboard this ship of futuristic design and making heavy use of innovative technologies will be mind-boggling : Panoramic spaces, amusement park, aquatic park, dual decks, inside promenade deck with shops, bars and restaurants, etc.
VIDELIO - HMS is one of the foremost suppliers for the fiiting of the two cruise ships. We are in charge of the Sound and Lighting equipment, Stage Machinery, Broadcast facilities and Time-Keeping.
"A futuristic design and world class on board entertainment"
The ships will be fitted with a LED vaulted ceiling of 480 square meters covering the entire promenade deck. It will be the largest display ceiling ever to cruise the seas, indeed, the sheer dimensions are awesome : 80m long, 5.60m wide and 1334 LED panels are required using a 4mm pitch. It will be used to display digital skies with sunrises and sunsets, starry night skies as well as landscapes and events.
And of course, , VIDELIO - HMS is in charge of engineering, construction and installation of the entire structure to support the vaulted ceiling. A technical challenge that our teams take up with pride !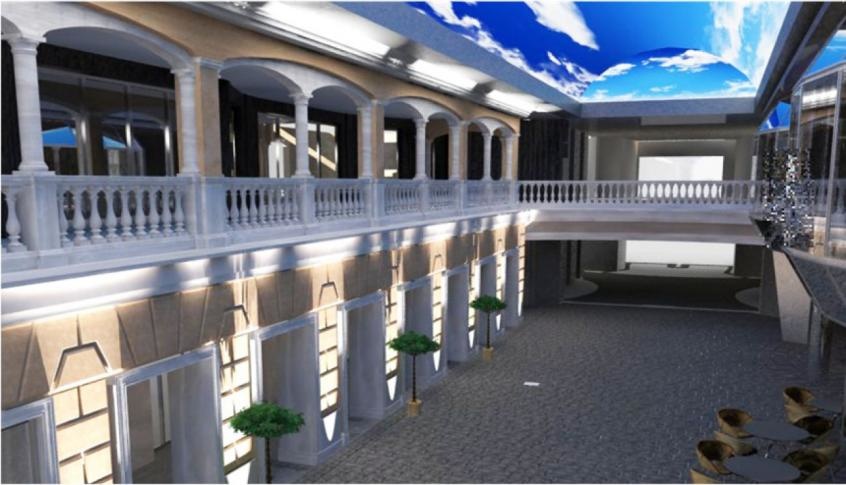 3D artist's view of the promenade deck and the 480 square meter vaulted ceiling
Our added value : the design and adaptation of the support structure to cope with movements of the hull when the ship is at sea. Elaborate engineering is required to prevent the panels from getting out of alignment.
A partnership under the dual auspices of success and magnificence !
Discover the Meraviglia in video !
To learn more about the Meraviglia and get a glimpse of the incredible innovations installed on board, please click here to read the article published in Mer et Marine