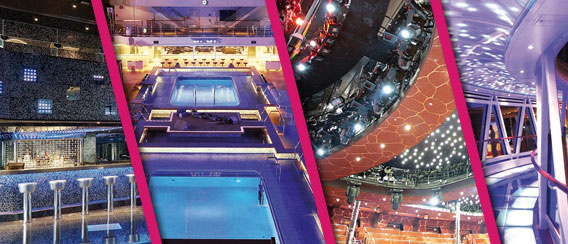 Published on 29/01/2016
Think about the perfect fusion between high-famed and stylish lamurrina glasses and led lighting solutions.
Think now about this perfect fusion precisely integrated on a cruise ship.
Think about us.
La murrina
The level of expertise the master glass blowers apply when making the world famous la murrina glass has been transferred to the naval design department which speaks the same language as its clients.
The department is able to solve small and big problems thanks to the vast experience gained on field, it is competent in proposing the best materials and suppliers precisely because it is a manufacturing company,
It is able to evaluate the best value for money because it is constantly updated with what is happening in the various sectors. It knows what certifications are needed and how to obtain them on time because it is expert on regulations and markets; it can provide logistics, installation and after sales service.
In a nutshell, la murrina is able to provide the best solutions for the most complex projects and executions.
VIDELIO - HMS operations
The group has been established since 1983 and strives to go ahead to manage newbuilding and refitting ship projects, as well as land ones (residents, corporates, theatres, hotel and hospitality, villas). Strong of its long lasting experience, it provides ample expertise in the fields of audio, video, lighting and rigging for every type of installed application including theatres, broadcasting rooms, meeting rooms, swimming pools, discotheques and more.
Each project is followed from its conception to delivery with a unique "turn key" approach that includes superior system design and engineering, hardware and software supply,
Integration and installation, set-up and fine tuning, commissioning and post-sales support.
VIDELIO - HMS operations is known in the cruise industry for its innovative solutions in the entertainment & internal communication sectors.
The newly established VIDELIO - ASIA, based in hong kong, with a team of specialized technicians available on site, is able to provide a wide range of leading-edge solutions to cover the growing business demand of assistance in the asian market.
Delta contract
Delta contract was born from the will of its shareholders to provide the market with all the experience gained in years of work in the world of "lighting" in all its expressions. Delta contract is therefore present in different markets italian and international lighting: in naval, new building, spare parts, refitting, etc.
In the contract hospitality, retail & corporate; it offers a range of architectural and functional interior and exterior design of led lighting.
Thanks to the long experience of its staff and sensitive to the calls of the tradition, delta contract follows perfectly the needs of major shipowners and famous designers operating in shipbuilding, hospitality, corporate, and pays the utmost attention to every detail.
Hospitality - offices & public spaces - commercial & retail - residential - shipping
Think about us. We'll take care about your vision.